Sally B & Friends Day 31st July 2011
On Sunday 31st July a celebration of B-17 Flying Fortress G-BEDF Sally B, in her 66th year, will take place at IWM Duxford, this special event offers 1940s nostalgia, fantastic flying and the opportunity to hear from the pilots and ground crews who keep historic aircraft in pristine condition for the enjoyment of future generations.
Sally B is the last remaining B-17 flying in Europe
As a preview for this event Macks Aviation was invited to attend a special practice display formation never before attempted. The formation was with 'Sally B' and the Scottish Widows Investment Partnership (SWIP) Silence Twister SA1100 aircraft G-SWIP & G-ZWIP flown by Peter Wells & Guy Westgate.
Following a debrief between The Sally B crew and Guy Westgate it was obvious the practise formation was a success and the public performance on the 31st July is eagerly awaited.
The event on the 31st July is free to existing members of the Sally B supporters club and for non-members standard IWM Duxford entrance fees applies.
Whilst the day is NOT an Air Display per se there will be an element of flying involving both Sally B in formation with other aircraft as well as individual displays from other aircraft.
Sally B will perform 3 set pieces during the day with other aircraft:
Apart from the flying the event will include ground-based attractions including a 'meet the pilots' and 1940's swing style jazz music provided by "Room 21"
The Office of Sally B
B-17 FLYING FORTRESS G-BEDF Sally B Background Information.
Built as Boeing B-17G-105-VE c/n 8693, the future Sally B was one of the last to be constructed by the Lockheed-Vega plant at Burbank, California. Accepted by the United States Army Air Force (USAAF) as 44-85784 on 19 June 1945 it was too late to see war service and was flown to Nashville for modifications. Converted for training purposes and re-designated TB-17G it was based at Wright Field (now Wright-Patterson AFB) Ohio from November 1945.
Continuing in the care of 2750th Air Base Group (ABG), 44-85784 was selected for use as a research vehicle and in 1949 allocated EB-17G status. As such, the B-17 was used in a variety of research roles, one of the most bizarre being the addition of a man-carrying pod on the starboard wingtip.
Also fitted at the time was an infra-red tracking device in place of the Perspex nose. These trials continued for some years in a variety of guises and it was not until 1954 that 44-85784 was returned to standard configuration, less armaments, at Hill AFB in Utah. No details have emerged of the trials in which this aircraft was involved. In France, the Institut Geographic National (IGN) had purchased several B-17s after the war for survey and mapping work and added others as necessary. 44-85784 arrived in November 1954 and was given the French registration F-BGSR.
Based at Creil, these aircraft carried out work for the French government and others, faithfully, for many years. As they entered the 1970s, it was apparent that the cost of operating a B-17 Flying Fortresses was getting prohibitive and that the lack of availability of spares was a problem. The IGN replaced the B-17s with other aircraft, including the purpose-built Hurel-Dubois HD.34.
Businessman and pilot Ted White brought the B-17 to Britain via Biggin Hill to Imperial War Museum Duxford as N17TE, in March 1975, to begin a new life as Sally B. Sally B made her debut at the 1975 Biggin Hill Air Fair, flying as the USAAF Second World War Memorial Flight. Sally B has continued to delight fans at IWM Duxford and air shows across the country ever since.
* All flying and activities are subject to weather, serviceability and operational commitments that could mean any or all of the above are cancelled at short notice.
More information about: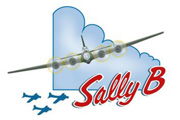 More information about: